Collection:
Stephens Collection
Dates of Creation:
October 18, 1943
Extent of Description:
1page3.5x5.5 in.
Item ID:
AM—0096
Title:
Greeting to the Discipleship of Koresh — A.K. 104
Scope & Content:
Annual greeting, on printed form, including a prayer/quote from Koresh. This one begins with: "Many hundred years have flown, and the world's night still rests in gloom." The prayer goes on to say that "A brilliant Star, the Harbinger of day, appears, and in glory shines; but few there be to note the Ensign..."

October 18, 1943.
Click to Enlarge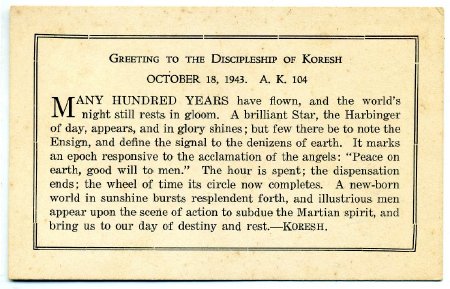 Page 1 of 1