Collection:
Stephens Collection
Dates of Creation:
October 18, 1922
Extent of Description:
2pages3.5x4.5 in.
Item ID:
AM—0095
Title:
Greeting to the Discipleship of Koresh — A.K. 83
October 18, 1922
Scope & Content:
Prayer by Koresh. There are two copies. The prayer reads; "We have been brought to entertain the hope, founded in the Science of Life, that the time is at hand when all that has been predicted for the chosen of the Lord is now waiting at the doors, to be fufilled for those who await the manifestation of the resurrection of the dead, the fruition of the Tree of Life, and the establishment of the Lord's kingdom in earth, where God himself shall reign through the chosen vessel of his great honor." Note that this has the same catalog number as the 1923 greeting.
Click to Enlarge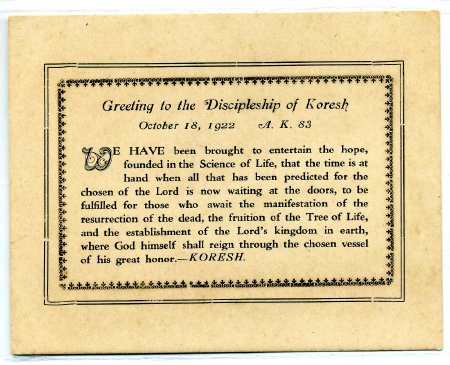 Page 1 of 1