Collection:
Stephens Collection
Dates of Creation:
unknown
Extent of Description:
1page4.5x3.5 in.
Item ID:
AM—0100
Title:
Prayer, "O Shepherd of Israel"
Scope & Content:
The paper appears to be some sort of addendum or errata sheet. Printed on one side with no other markings. The prayer reads "O Shepherd of Israel, Like a flock thou leadest us! The daughters of Joseph will sing thy And the sons of thy kingdom and thine heirs Will worship thee; Thou art worthy to be our king, And we rejoice in thy service: In thee we find the God of our salvation, And we trust in thee forever more."
Click to Enlarge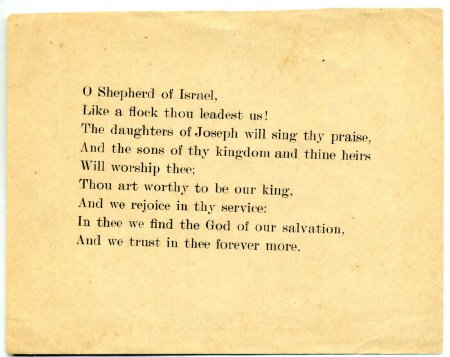 Page 1 of 1