Collection:
KSHS Additional Material
Dates of Creation:
10 October 1940
Extent of Description:
1 page, typewritten.
Item ID:
AM—0157
Title:
Letter: "Fulger" to J. Emerson Saunders — San Diego to Estero
Scope & Content:
This letter, written on Oct 10, 1940, talks about Allen Andrew's sale of Koreshan land on Estero Island and he discusses the situation in the world and how he was called up for military service, but was rejected. It was written from San Diego California. The identity of "Fulger" is unknown.
Subjects:
Koreshanity——politics
Click to Enlarge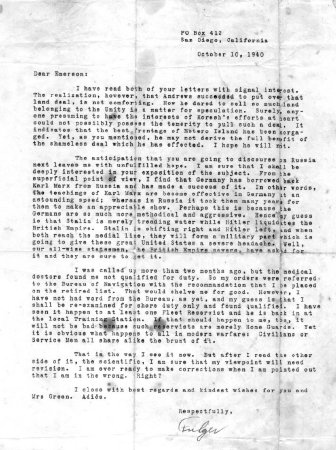 Fulger to Emerson