Collection:
Stephens Collection
Dates of Creation:
1920
Extent of Description:
1page3.5x4.5 in.
Item ID:
AM—0093
Title:
Greeting to the Discipleship of Koresh — A.K. 81 —— October 18, 1920
Scope & Content:
Another in the annual Solar Festival greetings in this collection. Consists of a prayer by Koresh which has a very negative tone; "Awake, blinded and benighted humanity, to a realization of the truth that some are to arise to an inheritance with God, while many will arise to the intensity of contempt!" The card has the standard "Koresh" printed at the end. From the Solar Festival, October 18, 1920.
Click to Enlarge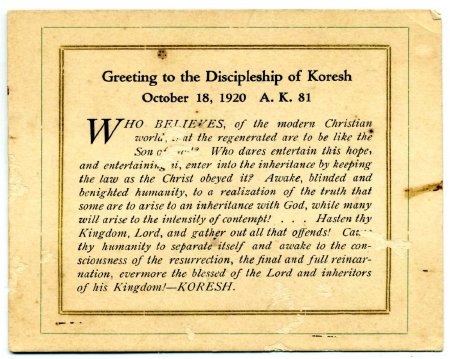 Page 1 of 1