Collection:
KSHS Articles and Clippings
Extent of Description:
Correspondence of Juan Rodriguez and Raymond Sheperd and photocopies of newspaper articles and some Koreshan literature.
Item ID:
AM—0177
Title:
Cyrus Teed and Economy Village Pennsylvania.
Scope & Content:
This collection of photocopies are clippings that have a relationship to Old Economy Pennsyvania, the Rappite village. Cyrus Teed visited there as late as 1891. In 1995, during the Communal Studies Association meeting which was held in Estero, the Director of "Old Economy Village" spoke with Juan Rodriguez, (KSHS MEPS), and he sent along some information, after his return to Economy, concerning Dr. Teed and his relationship with the Economites.
Subjects:
Rappites
Economites

Click to Enlarge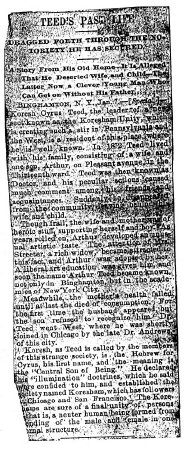 One of multiple clippings