Collection:
Stephens Collection
Dates of Creation:
1902
Extent of Description:
1page3.5x4.5 in.
Item ID:
AM—0085
Title:
Greeting to the Discipleship of Koresh — A.K. 63
Scope & Content:
Prayer Greeting similar to the others in the collection. The date of 1902 is not printed, but is based on Koresh's birth year of 1839. The prayer once again speaks of the life to come — "...the vortex of revolution and your deliverance." The notion of holding on to Koreshan "truths" is evident in the line: "You who have carried the burden of the consciousness of transition from the regime of chaos to the instalment (sic) of the majesty of Imperial Socialism, will rejoice in the reward of immortality,.."
Click to Enlarge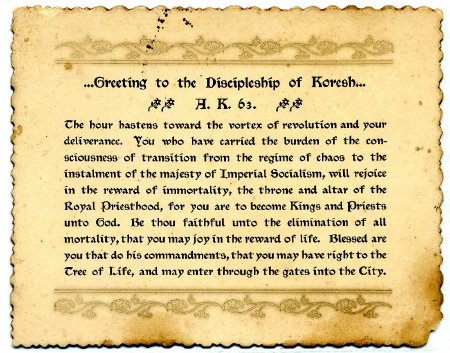 Page 1 of 1